Hood Filter Maintenance
Houston Texas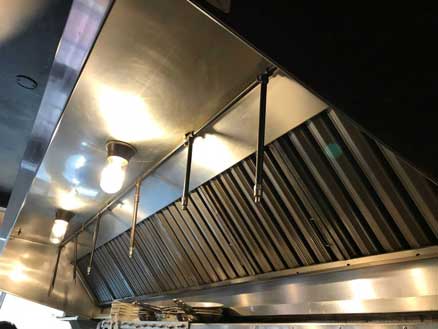 The filter is the first blanket of security in any exhaust and grease containment systems. It's necessary for any commercial kitchen to operate safely and efficiently because they trap airborne vapor, grease, smoke and other particles created during the cooking process. It also prevents any flammable debris from getting into the ductwork system, thus preventing any fires.
Up to this point, I bet you've gathered how important it is that hood filters are always in perfect condition.  You may also be aware of spark arrestor vent hood filters or the stainless-steel baffle grease filters? Maybe not but trust me they are many.
You could melt the grease from the filter using an oven, or you could soak the entire hood filters inside some detergent, you could also use the warm water and vinegar solution. There are many ways of sanitation, however, if your staff does all the cleaning, you risk damaging the appliance.  If you give the job to a mediocre company, they might not get the job done right. To get your hood filters serviced properly you need pros but not any pro. You need the best. You need us.
Talk to us about your current cleaning schedule and our great hood filters.
We offer the best hood filter maintenance services when you need it and at the best rates in town. We take a lot of pride in our work and most importantly we always give the task given our all to get it done right. After all, our clients are everything to us. Get on the phone and call us now for a FREE QUOTE.
Houston TX Hood Cleaning serves the following neighborhoods of Houston, TX; League City, Pasadena, Pearland, Baytown, Conroe, Deer Park, Friendswood, Galveston, Lake Jackson, La Porte, Rosenberg, Texas City, Missouri City, Kingwood, Mission Blend, Channelview, Richmond, Jacinto City and Katy. We also service every area in between.  We don't go as far north as Dallas, so we recommend that you contact Dallas TX Hood Cleaning there: https://dallastxhoodcleaning.com