Exhaust Hood Cleaning
Houston Texas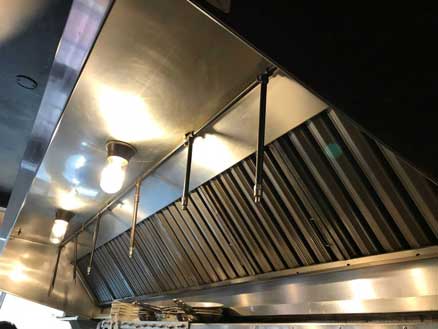 Did you know, exhaust hoods need to be serviced on a regular basis to prevent the kitchen from developing a funny smell?  Regular maintenance also keeps the system working perfectly. When grease accumulates inside of the hood system, just one spark from the grill or the stove can be the trigger to a fierce grease fire. Nowadays insurance providers want you to provide them with your service schedule for your exhaust hood cleaning before they even consider insuring you against fire damage.
Introducing your best friend for exhaust hood cleaning.
Houston TX Hood Cleaning works extra hard to ensure they have delivered the best exhaust hood cleaning service to all their clients. We go all the way to scrub the hood's interior to the shaft, to the fan unit on the roof. As with all our services, we offer a 100% guarantee of satisfaction.
Our team will scrub, clean and degrease the filth out of your kitchen hoods and leave them working better than ever before. Our accomplished team is adequately trained and well equipped with all the equipment required for exhaust hood cleaning: give our team your grease hoods or your condensate hoods and prepare to be amazed. Don't worry our team will use a specially purposed cover to help safeguard your floor from getting stains while the hood is being serviced.
If you'd like, our team can also provide before and after photographic evidence of the full sanitation process.  This step is perfect to highlight all the work put into the project and it is good for quality control and insurance purposes.
Best part is we'll work at your own calendar to guarantee we don't bother you clients, staff or disturb the everyday restaurant tasks.
You want the best and yet you haven't called Houston TX Hood Cleaning.
We have and will keep serving every area of Houston, Texas, so if you own any building with a commercial kitchen, you should already be picking up the phone and calling this number - (713) 352-7999. You can also fill out the contact form provided. We guarantee the finest exhaust hood cleaning at the best rates in town.
Once you've confirmed interest, one of your representatives will call you to schedule an appointment to come visit you at your restaurant. Once there, our representative will quickly inspect your hood system to come up with a custom quote just for you. They can also suggest a schedule that fits all your needs.
---
Houston TX Hood Cleaning proudly cleans your kitchen top to bottom.